Last time, we discussed the Roth IRA Conversion.
Let me ask you a question. Did you ever wish for a financial do-over? How would you like to go back, say 10 years, and be able to tell your broker you prefer to not buy those banking stock, but instead, load up on Apple?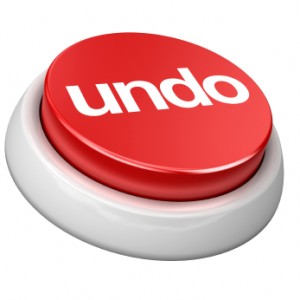 Well, that would be great, wouldn't it? In one of the rarest cases of do-over you'll ever find, you are actually (no fooling here) able to tell your broker that the cash, stock, or fund you converted from a traditional IRA to Roth should now be moved back to the Traditional IRA. This is called a Recharacterization, and may be effected for any 2012 conversion right up till the day you return is due, including extensions. That puts you at around October 15th, 2013 to make sure you really meant to convert. Now, let's look a a few reasons why you might wish to recharacterize:
You changed your mind. (I include this one to show that the IRS doesn't care why you want to do this.)
You don't have the money to pay the tax due.
The conversion put you into the next marginal rate, and you'd like to recharacterize enough to get your taxable income down to that lower rate.
The value of the stock dropped. A lot. Damn. Say you converted stock worth $10,000, and you are in the 15% bracket. Your tax bill for this transaction is still $1500, but the stock is now worth $5000, so you're paying 30% on the current value. You recharacterize the shares, and if it's already 2013, wait 30 days, and convert again. Now, you owe only $750 in tax.
The conversion triggered AMT and in effect, put you into a higher (phantom) bracket.
The conversion raised your income enough to result in a Medicare Part B surcharge.
The conversion occurred at the point where Social Security benefits were becoming taxable. This could result in a $1000 conversion costing an otherwise 25% marginal filer to pay as much as $462.50 more in tax due to this conversion. Ouch.
Last – you did the math and realize your marginal rate in future years will be lower than today.
The process itself is pretty simple, your broker has a form asking you to tell them what asset you converted, and if you want them to figure out the gain (cash or dividends the stock gave off) that follows it back.
That's 8 reasons to recharacterize. Any that I missed? Let me know, and I'll add then to the list.