The question seemed simple enough. A reader asked The David if after paying off all non-mortgage debt, and having the suggested 3-6 month emergency fund, a Roth conversion of his $100K IRA made sense.
Dave answers, warning that the conversion will cost about $25K in tax and this money should be available, not taken from the IRA itself.
The problem here is that an edited question like this misses far more details than it gives, and even if the advice is right for the person who submitted the question, it's probably bad advice for 90% of those reading the paper or site it appeared in. Let's do a bit of detective work here. The OP (Original Poster or person asking the question) only mentions the IRA, so we might assume this is his entire retirement savings. Working backwards, knowing that IRA limits were far lower each year, it would have taken nearly 20 years to accumulate this $100K. The next 20 years might produce a savings of $200K-$300K. This is enough to withdraw no more than $12,000 per year, and virtually no tax at all would be due.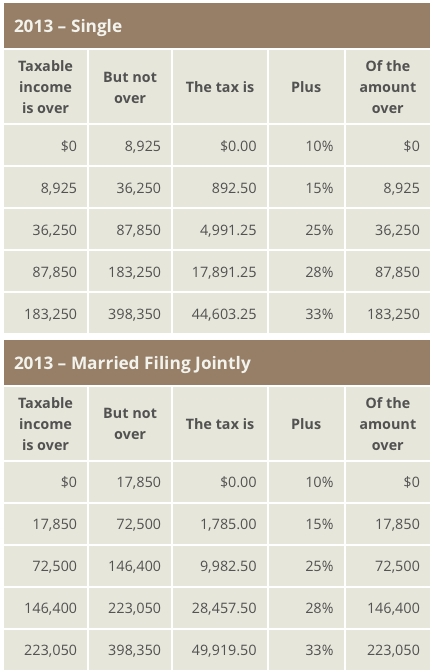 Next, from my friends at Fairmark, we'll look at the 2013 tax rates. Say the OP is single and would have a taxable income of $35,000. He's been putting money aside in a pretax IRA over the years and doing so while in the 15% bracket. Now, Dave gives him the green light for a wholesale conversion, but do you see what I see? $135K is well within the 28% bracket.  It makes no sense for someone with this situation to convert any amount that would put them into the next bracket. Someone hugging the 15%/25% line can choose between Pretax IRA and Roth IRA to get their taxable income to exactly $36,250 (if single) and stay right at the 15% bracket. If the OP has a taxable $30K, then converting $6250, just enough to 'top off' that bracket is a great idea, but converting it all? Bad idea in most situations.
Keep in mind, the OP just finished paying off debt, and only has a mortgage. Great progress for someone who appears to be about 40 years old, but this isn't someone who should be throwing $25K in liquid cash at a Roth conversion. At the very least, Dave should have warned about understanding and looking at current tax bracket. In this case, the advice can be very costly, first, a tax on the conversion, and then the missed opportunity to have retirement income at the 10% and 15% brackets.